A Regional Workshop on Religion(s) and Public Affairs
They Must Refrain from Politicizing Religion and Religionizing Politics
A Regional Workshop on Religion(s) and Public Affairs
Larnaca 13-14 June 2023
FINAL STATEMENT
In a strategic partnership between We Choose Abundant Life, Dar al-Kalima University (Palestine), the Civic Influence Hub (Lebanon), MASARAT for Cultural and Media Development (Iraq) and SABEEL Ecumenical Liberation Theology Center (Palestine) with the participation of 21 experts in theology and geopolitics from Palestine, Lebanon, Egypt, Syria and Iraq, a regional workshop session was held in Larnaca on June 13-14, 2023 titled "They Must Refrain from Politicizing Religion and Religionizing Politics."
The seminar was divided into five sessions. The opening session was moderated by Rev. Dr. Mitri Rahab and overviewed the vision and commitments of partner organizations in public affairs. The first session titled "How to Handle Political Choices Shaped by Religion(s)?" was moderated by Ziad El-Sayegh with interventions from Me Dr. Mohammad Farid Mattar and Dr. Kholoud Daibes. The second session titled "Religion(s) and Human Rights: Implicit Exclusion or Constructive Negotiation?" was moderated by Father Dr. Khalil Chalfoun and included interventions by Mrs. Chaden Hani Noueihed and Dr. Georges Tharwat Fahmi. The third session took place on the second day and was titled "How Much Religion Can the Public Sphere Afford?". It was moderated by Elham Morshi and included interventions by Dr. Ihab Bseiso and Dr. Simon Kachar. Then a session was held to discuss the final statement moderated by Sawsan Bitar, followed by a closing session moderated by Michel Nseir, in which the participants discussed ideas for a future strategy and roadmap.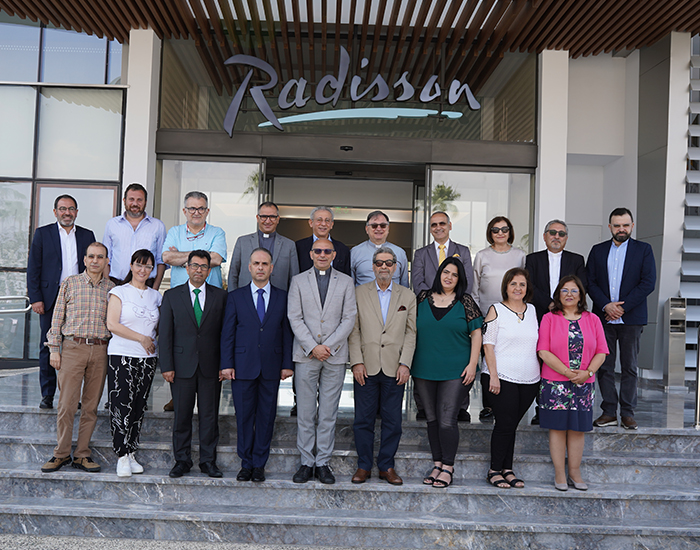 Discussions and Deliberations concluded the following:
First: The relationship between Religion - all Religions - and Politics in our Arab region is based on intense controversy and complexity, which requires deep reflection on the joint spaces. Redressing this dialectical relationship can only succeed when it focuses on constructing a renaissance architecture in the Arab region, on the grounds of building a Citizen-State governed by the law and the constitution, in which freedoms, pluralism, and human dignity are respected, and in which public good takes precedence over the policies of influence, tyranny and all sorts of polarization.
Second: In harmony with the Universal Values of Human Rights, we see that religions and rights are bound by the very concepts of converging through their biasness towards common good (this concept may sometimes be used for other than its purposes). However, due to ambiguities in vision, strategy, and behavior, there is a need for a clear-cut re-definition of these rights, their translation on the ground, and the systems meant for their protection, without neglecting the nature of the risks that may taint the noblest of their purposes. Consequently, it is necessary to restore the fact that they are linked to the context with which they interact in order to preserve values, where the individual and the community are complementary and show solidarity in the Public Space.
Third: The Public Sphere, with its living societal forces, shall pursue the struggle for the supremacy of the constitution and the law in order to preserve Human dignity and Peace of Societies. These forces are called upon to engage in dialogue with the Religious Institutions to ensure individual freedom and pluralism in all its religious, cultural, societal, ethnic and linguistic affiliations.
Based on the above, the partner institutions, as well as the participants in the regional workshop, shall continue to effectively cooperate to develop a renaissance vision that serves every human being in our distressed and afflicted Arab region which looks forward to a better future.
Larnaca 06/14/2023