Dar al-Kalima Contemporary Arts Students Restore Murals in Historic Virgin Mary Greek Orthodox Church
On Monday, March 13th, a course on preserving and restoring murals from Dar al-Kalima University began at The Virgin Mary Orthodox Church in Beit Jala. The project is being supervised by Italian restorer Susanna Sarmati, who was among the team of experts who have contributed to the restoration of artworks in the Church of the Nativity in Bethlehem. Eleven students from all over Palestine, including Bethlehem, Jerusalem, Hebron, Ramallah, and Galilee, are participating in the course, some earning their Bachelor of Arts and others gaining professional experience in the field.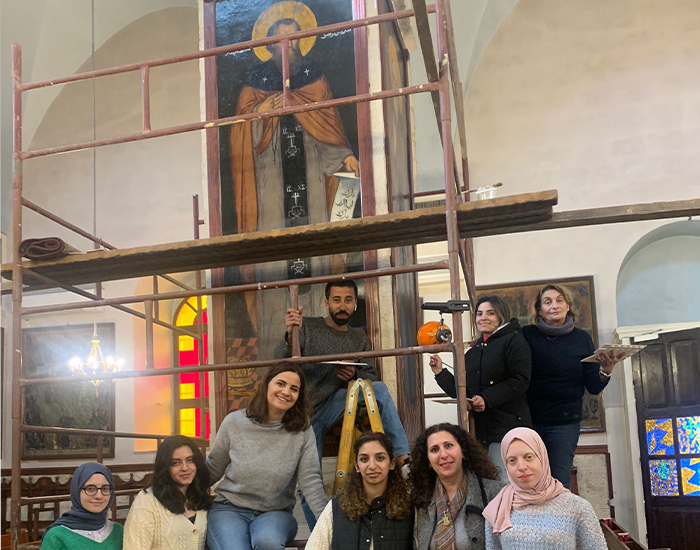 The course comes in cooperation with the priests and staff of the Virgin Mary Orthodox Church in Beit Jala, where teaching, application, and practical training are taking place through the restoration of two murals, the charity boxy, and icons.
This church is of significant importance due to its national cultural heritage. It is estimated that the selected murals are from the 1860's or 1870's, near the end of the Ottoman empire. According to the dean of the College of Fine Arts at Dar al-Kalima University, professor Faten Nastas Mitwasi, these murals are an example of the "Arabization" of church icons in direct response to occupation by a foreign power. It is clear that these murals as well as the church itself were created by Palestinian Arabs for their local community.
Students are working daily for two weeks to complete the restoration. Through funerals and Lenten prayer services, the team has demonstrated their flexibility and dedication in executing their vision. The students first learned restoration theory then began testing, consolidating, cleaning, and retouching the artwork.
It is imperative to professor Faten Nastas Mitwasi that Palestine develops its own collection of local restorers to preserve their cultural heritage. Learning the technicalities of the field, researching, and giving value to native historic artifacts from churches and houses alike is a process that she believes is necessary for a strong cultural identity for future generations. Students in the course Wafa' Ibrahim and Yazzan Abu Salamah expressed similar sentiments, stating that there is an abundance of Palestinian artworks and Palestinians must be the ones restoring their own history.
Dar al Kalima University is honored to offer a restoration track in its Contemporary Arts degree to develop experts such as these, so that the cultural heritage of Palestine is preserved.
The course is implemented with the support of the Italian Agency for Development Cooperation.