Wafa's success story
Some days, Wafa Ibrahim's Bethlehem studio is so full of children that she cannot see the floor. The artist and recent graduate of Dar al-Kalima University College of Arts and Culture said the pure and authentic way that children think inspires her to paint.
"In the area where I live, I am the only one there who paints," Ibrahim said. "When I go to my studio, which is on the street, all the children there come to me. They want to see what I am doing. Then they start to come to draw and paint and sometimes the studio is completely children."
Ibrahim herself began painting at a very young age. When she was in the second grade, a teacher at her school told her she couldn't draw anything and that she should leave the art to the older students. After she finished her painting, an image of her house, the teacher put it up on the wall, clearly proven wrong.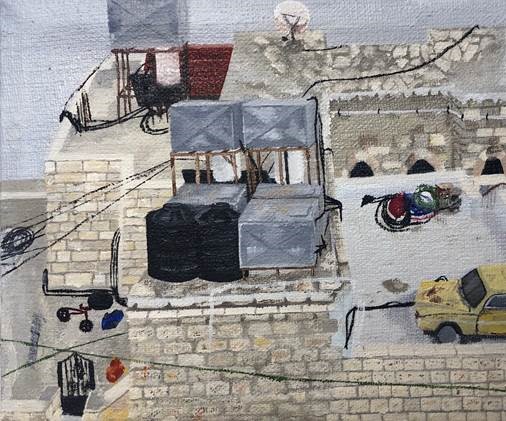 Now, Ibrahim herself teaches art, both to children through a program in Aida Refugee Camp and at Dar al-Kalima. After her graduation in May, Ibrahim began working as an assistant teacher in the Fine Art Department at Dar al-Kalima and as an assistant to the Director of the Film Department, Saed Andoni. Her goal is to eventually earn a master's degree and teach full time.
Studying contemporary art at Dar al-Kalima opened a lot of doors for Ibrahim, she said. After studying biology for a year at Bethlehem University, she transferred to Dar al-Kalima for the chance to focus on her art.
"I started to learn a lot of things in religion, in humanities, in politics, and in a lot of things," Ibrahim said. "When I was studying art I wanted to know more and more things. I was so curious and my personality completely changed. There was a lot of ideas in my head that I was afraid to speak about before I studied art."
Much of Wafa's art is inspired by what she sees around her, she said. Both people and places in Palestine feature in her paintings. For her graduation project, she spent many months walking the streets of Bethlehem in order to put together a hand-drawn map of the area, which she later painted on a wall. On top of the map she placed smaller paintings of close-up views of different surfaces around the city."
"Architecture is one of my favorite topics to paint about and to talk about," she said. "Each rooftop or surface is different and says something about the history of Palestine."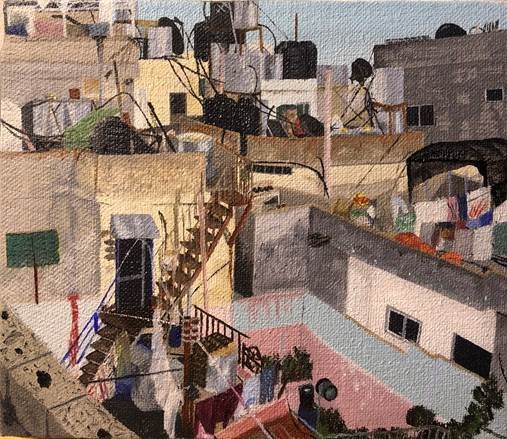 Knowing students and teachers here at Dar al-Kalima has also opened Ibrahim to new interests. Now, with the film department here, she has been the Art Director or provided makeup art for more than 15 films, most of which have screened at festivals and many of which have won awards. She worked as the Art Director for the short film Ambience, which won the third prize in the Cinefondation competition at the 72nd Annual Cannes International Film Festival.
Studying and working here has also changed some of Ibrahim's dreams for the future. She wants to work here for at least two years before pursuing her master's degree abroad. At the same time, she will be working on her own art project inspired by the attitudes of people living in Palestine.
"I will never stop painting of course," Ibrahim said. "I want to be a teacher, but most of all I want to be an artist and a contemporary artist. I want to paint all the time and I hope that I can have exhibitions in Palestine and outside Palestine in the future."