Orientation Day
Orientation Day Write Up
The hallways, classrooms, and rehearsal spaces of the Dar al-Kalima University College of Arts and Culture are full of groups of wide-eyed and eager high school seniors. Their excited voices echo off the vaulted ceiling of the central atrium as they are led by their teachers from room to room, to hear presentations from administrators, teachers, and staff of the college. In the nearby sports center, yet more students pass through a "College Fair," representing more than 19 higher education institutions in Palestine. In total, more than 2,000 students explored Dar al-Kalima's campus, testing out whether they might like to attend the school after graduation.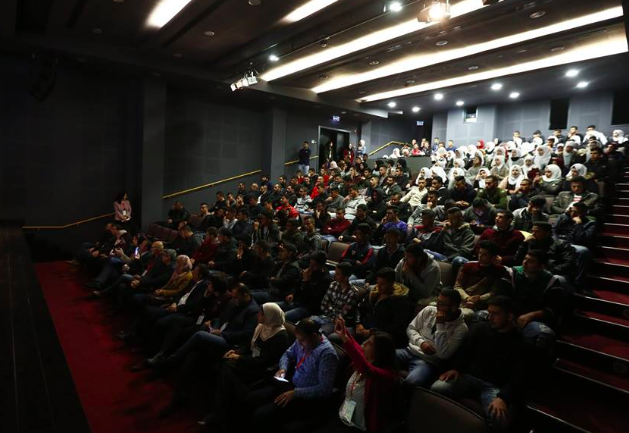 The orientation event, titled "Ambassadors of Creativity," was hosted by Dar al-Kalima University College of Arts and Culture for the first time in 2019, in collaboration with the Palestinian Ministry of Higher Education and many higher education institutions in the area. The event provided high schoolers the opportunity to explore post-secondary educational opportunities and to interact with current university students.
The day began with a series of presentations designed to introduce the students to various colleges and concepts they would encounter throughout the day. Vice President for Academic Affairs Dr. Nuha Khoury welcomed the visiting students, thanking them for their attendance and stressing the importance of creative higher education in creating future leaders who can serve society in whichever field they choose. Speaking on behalf of HE Minister of Education Dr. Sabri Sidem, the Director of Education of Bethlehem Mr. Sami Marwa offered his thanks to Dar al-Kalima for hosting the event and to the students themselves for attending. Marwa encouraged students to consider technical and vocational educational paths, noting that with some more academic disciplines as many as 48,000 graduates may be competing for less than 1,000 jobs. By choosing disciplines that are in high demand in the job market, students can avoid unemployment.
Participating in the college fair were Al-Nijah National University, the Arab-American University. Dar al-Kalima, Palestine Technical University, Birzeit University, al-Quds University, the Open University of Jerusalem, Bethlehem University, Hebron University, Palestine Polytechnic University, Palestine Ahliya University, Istiqlal University, the Open Arab University, the Modern University College, Hisham Hajawi University, the College of Family Rehabilitation, the Abdullah al-Ghurair Institute for Education, and the Talitha Kumi Community College. It is worth noting that Dar al-Kalima University College will participate in future college orientation sessions held at other institutions throughout Palestine.
As students departed from the introductory lecture, they were welcomed into a variety of activities, including the College Fair, tours of Dar al-Kalima, and viewings of films produced by Dar al-Kalima students. Through it all, current students and staff of Dar al-Kalima University College were present to answer questions and talk with prospective students. They, according to Dar al-Kalima President Rev. Dr. Mitri Raheb, made the event an absolute success and represented the values and quality of Dar al-Kalima peerlessly.
Dar al-Kalima University College of Arts and Culture is the first of its kind in Palestine, offering students the opportunity to focus on performing and visual arts, Palestinian heritage, and design. The University College offers degrees in interior design, cultural and sustainable tourism, performing arts, graphic design, film production, glass and ceramics, culinary arts, and hospitality. Dar al-Kalima works to develop the skills and talents of its students, in order that they may be ambassadors of their country, their culture, and their civilization.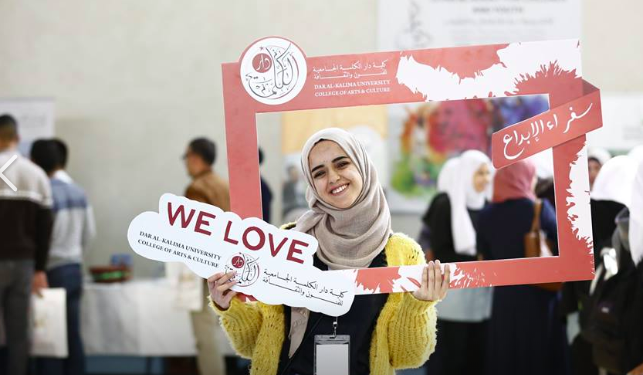 ---
Nuha with u please instead of o
Can we use here absolute instead of unqualified?
Should we put performance here? Instead if performing?